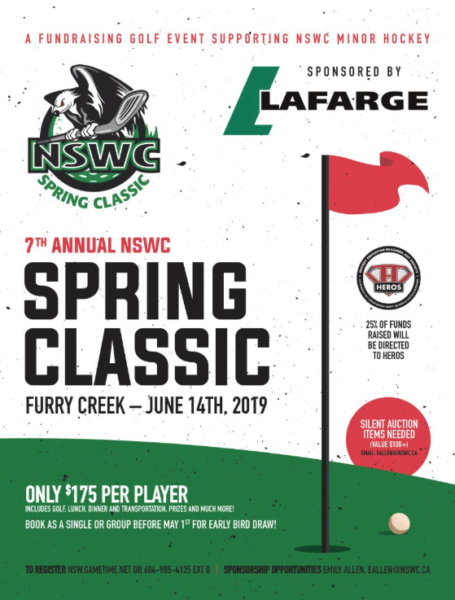 The Spring Classic is NSWC Minor Hockey's premier annual fundraising event that brings to life NSWC's culture of fun and healthy competition, while raising funds to augment our young hockey player's experience and development. The event will be on Friday June 14th at Furry Creek.
Check out these exciting offers for those who register this year!
Initiation Families
Every NSWC initiation parent registered for Spring Classic will be entered into a draw to win a FREE Summer Hockey Camp!
Female Golfers
Every Female registered will be entered into a draw to win a Spa package from Skoah!
Reserve a spot as a single, two, three or four some today! $175 per player. Click HERE to register for the early bird price today!
Our goal for 2019 is to create an off-ice puck shooting gallery, upgrade our large ice video system and purchase more off-ice equipment to help develop all our Winterhawks.
This year, 25% of funds raised will be donated to HEROS Hockey. Hockey Education Reaching Out Society (HEROS) is a volunteer-driven charity that uses the game of ice hockey to teach life-skills and empower marginalized youth. HEROS was founded on the downtown Eastside in Vancouver and provides free programs to youth of all backgrounds from a grade four level, right up to post-secondary.
Thanks to our 2019 Gold Sponsor: LaFarge! We have many other sponsorship opportunities available so please click HERE to become a sponsor today! Any questions, please email Emily Allen (eallen@nswc.ca)