Special promotion for past NSWC members to rejoin the club on full membership basis. $2,500 rejoining fee (regular $5,000)
Return to North Shore Winter Club on full membership basis. Our pool is open, programs have commenced again, and the tiki deck is ready waiting for you!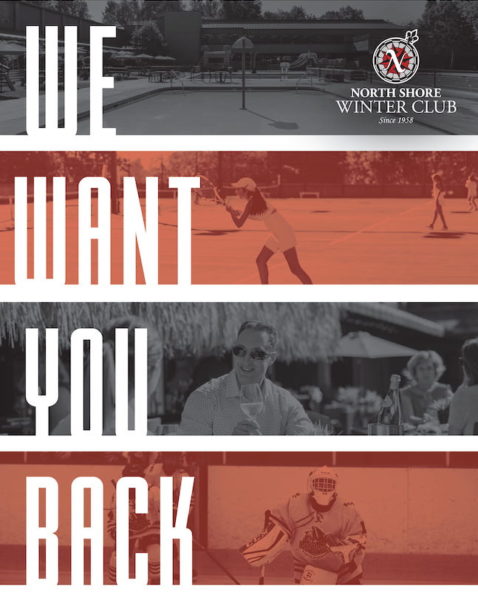 OFFER HIGHLIGHTS
$2,500 Rejoining Fee (regular $5,000)
Full Membership Privileges for Family & Couple
Qualifying past members:  resigned between January 1, 2015 – May 1, 2019
Rejoining Fee must be paid in full
Monthly dues + consumables + usage (programs, and lessons)
Limited time offer, must apply by Aug 15, 2020. (Membership commencement on the 1st of the month)
BENEFITS
Exceptional Minor Hockey program, year-round access to development, world-class coaching staff, premier Men's Hockey League, and plenty of open ice time on four sheets of ice.
Talented tennis coaching staff with unrestricted use of four outdoor courts and seven indoor courts, as well as two squash and two racquetball courts, with further access to tennis leagues, ladders, socials, and tournaments.
Included use of the inviting outdoor pool, which features a dive tank and wading pool, as well as summer activities, swimming lessons, and the Marlins Swim Team during the summer months.
Full access to the fitness center and the opportunity to register for value-added personal and group training programs and fitness classes.
Summer, professional day, and holiday kid's camps, including hockey, tennis, and multi-sport camps to keep your children entertained.
Parties, BBQs, and exciting social events on the Tiki Deck, in the Lounge, and in the Club Café.
60 years of tradition in a safe, friendly, environment for the entire family.
**Please note some limitations to available programming due to current COVID-19 operating restrictions, subject to change unexpectedly. 
Relive your memories at NSWC. Rejoin Today.
CONTACT SALES@NSWC.CA FOR MORE INFORMATION.