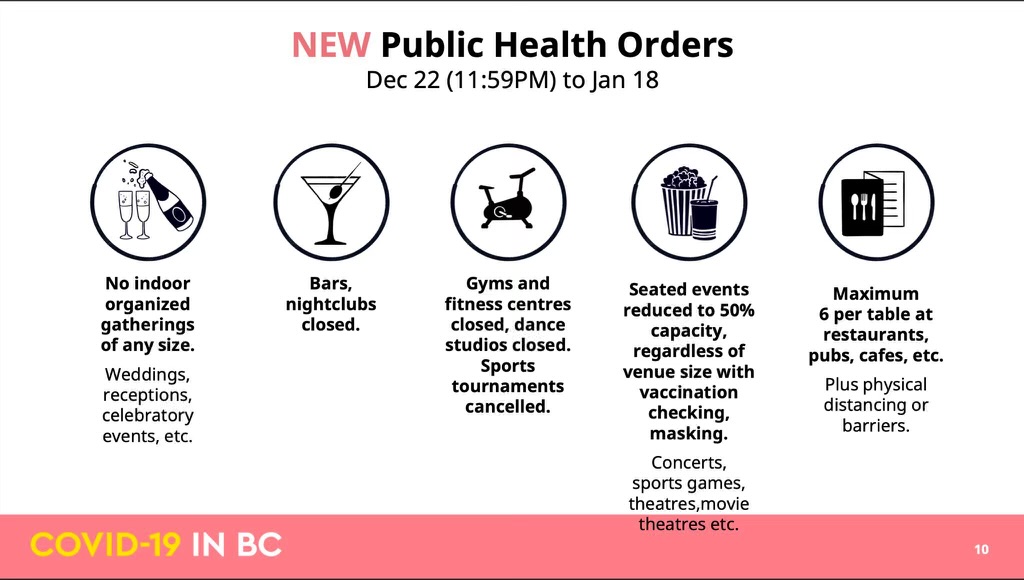 New COVID Policies – Member Update
The provincial health officer is implementing additional measures to address rising COVID-19 case counts that could result in increased hospitalizations and critical care admissions and the potential to overstress the health-care system.  These restrictions are in addition to the revised orders that took effect on Monday, December 20th.
Please review these policies carefully:

As of December 22, 2021 (effective midnight)
These restrictions are in effect until January 18, 2022.
As of December 20, 2021
These restrictions are in effect until January 31, 2022.
Indoor personal gatherings are limited to your household plus 10 visitors or 1 other household. Everyone 12 + must be fully vaccinated.
At restaurants, cafes and pubs, customers must remain seated and cannot move between or visit other tables. Masks are required when not seated and physical distancing must be maintained between tables.
All sports tournaments and related travel are not allowed.
Team play and league games are still permitted.
Ongoing Club Policies
 Masks
As masks are a proven and effective way to reduce transmission, masks continue to be mandatory in all indoor areas of the Club for Members, Staff and Guests over the age of 2 years old. Masks may be removed when participating in a sport, activity or sitting at a table.
Vaccinations
All eligible members staff, guests, and spectators (12 years+), and event participants (over 21) must provide proof of full vaccination in order to gain access to the Club. If you have not provided a copy of your vaccination card, you may email vaccine@nswc.ca or show your passport and government ID upon entry to the Club.
 Club Sports
At this time, hockey games, open hockey, tennis & pickleball matches are not affected by these orders.  Please continue to practice social distancing and frequent handwashing and sanitization.
Open Hockey will be limited to 10 participants.
 Guests
Members may introduce guests for a social occasion or Club activities.
The following restrictions are in effect:
All Guests must provide proof of vaccination (2 weeks after second dose) in order to gain access to the Club.
For those that cannot provide proof of vaccination, documentation of a negative COVID-19 test taken within 48 hours, will be accepted.
Guests may only be 12 and older (unless they can provide proof of full vaccination), and must be accompanied by the sponsoring Member at the Club, all times.
Guests under the age of 12 (who are not eligible for vaccination) are only permitted if they are living in the same household or are direct family members (i.e. child, brother, sister, or grandchild) of a current member.
Each membership is allowed a maximum of two participating Guests per visit (max four per month for club activities), none of whom may be introduced more frequently than twice per month in total.
The Guest fee for Club Activities (skating, tennis, pickleball, and fitness) is $15 for adults, $10 for juniors.
Guests must adhere to all Club policies. Members are responsible for the behaviour of their Guests in the Club.
Spectators
Both indoor arena/tennis and rink-side viewing are open, but must remain seated where seating is provided. Mask must be worn unless actively eating or drinking.  Capacities are limited in indoor areas to 50%.  Please abide by capacities posted.
Only members and fully vaccinated guest spectators are permitted.
The Upper Viewing is for ADULTS ONLY.
We have successfully operated under similar protocols and are confident that we can deliver a positive experience for our members and guests. We appreciated the cooperation from all members in getting through these very unusual times. We want to assure you that your safety and the safety of our staff are uppermost in all our planning.
We thank you for your cooperation and wish you and your family a very Happy Holiday Season!
Sincerely,
Joanna Hayes & the Board of Directors