NSWC Alumni Selected In NHL Draft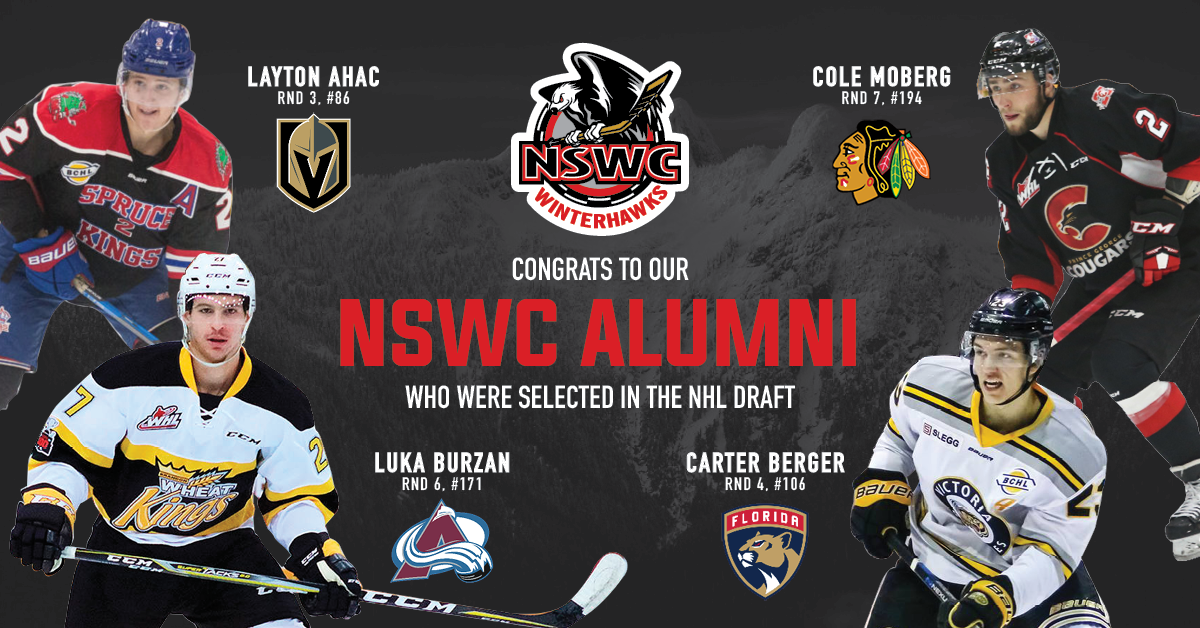 The North Shore Winter Club is proud to announce that 4 of our alumni heard their names called during the 2019 NHL Draft, which was host June 21-22 in Vancouver at Rogers Arena. Layton Ahac (Las Vegas Golden Knights), Carter Berger (Florida Panthers), Luka Burzan (Colorado Avalanche) and Cole Moberg (Chicago Blackhawks) were all selected on the second day of the draft.
Each of these young men has enjoyed a unique path to the draft since their graduation from minor hockey and should be applauded for their work ethic and determination. We look forward to following their careers as they continue to work towards their dream of playing in the NHL.
All four players will be attending their new teams development camp this week.
"On behalf of our entire NSWC community we are extremely proud of Layton, Carter, Luka and Cole. Being drafted is a tremendous accomplishment and doesn't happen without the support from family, coaches and teammates along the way, " stated NSWC Hockey Director Aaron Wilbur. "Each is a great role model for our current group of Winterhawks and we hope to see them back on our ice at our Alumni Game this summer."
Layton Ahac – Las Vegas Golden Knights, Round 3, #86
18/19 season: Prince George Spruce Kings (BCHL) – 53 GP, 4 G, 28 A, 32 PTS
Carter Berger – Florida Panthers, Round 4, #106
18/19 season: Victoria Grizzlies (BCHL) – 54 GP, 27 G, 36 A, 63 PTS
Luka Burzan – Colorado Avalanche, Round 6, #171
18/19 season: Brandon Wheat Kings – 68 GP, 40 G, 38 A, 78 PTS
Cole Moberg – Chicago Blackhawks, Round 7, #194
18/19 season: Prince George Cougars – 61 GP, 13 G, 27 A, 40 PTS